You've chosen the perfect mantel & surround – why not design your fireplace using the dove gray beauty of soapstone?
Dove gray, beautiful firebricks sawn from natural soapstone
Special mineral properties: ideal for fireplaces
Resists cracking and spalling
Super dense: stores and radiates heat
Perfect for masonry fireplaces, either woodburning or gas
Compatible with Isokern™ and Firerock™ fireplaces
Four sizes in stock
Nationwide shipping
Source your Soapstone from Stonetrade:
Soapstone Specialists
Decades of Experience with Soapstone
Thousands of bricks in stock
4 sizes: Standards, Splits, Soaps, and Strips
Multiple layout options possible
Nationwide Shipment
Expert Advice
Mariana Soapstone™ Firebrick FAQ
A metamorphic rock, primarily made of the mineral talc. It is not anything like limestone, marble, granite, slate or sandstone.  It is reasonably soft and can be scratched with metal.  True soapstone has special mineral properties that make it ideal for lining fireplaces.
Soapstone has a low thermal coefficient of expansion: it doesn't expand and contract much when its heated and cooled, so its less likely to crack or spall than other natural stones.  Plus, soapstone is extremely dense, so it absorbs and retain heats for long periods of time.  Soapstone is non-porous & not chemically reactive, so it won't stain or discolor like marble or limestone.
All varieties of true soapstone are gray, with some lighter and darker veining.. The stone varies somewhat in the amount of patterning and white veining.
Sealers are not necessary to protect the stone and will not last in a fireplace.  Soapstone countertops are often oiled to make them black: this should not be done in a fireplace application.
Yes, our soapstone has been tested and meets ASTM C-1261 (Standard Specification for Firebox Brick for Residential Fireplaces).
Regular firebrick:
raw look,
bright yellow or red color,
porous structure traps soot,
no real heat storage capacity,
can be brittle and crumbly.
vs
Soapstone:
dove gray color with natural veining,
crisp, clean look.
Non-porous and smooth texture stays cleaner,
Dense mineral structure holds and radiates heat,
Precise sawn sizing means you can use thin joints.
Experienced masons will have no difficulty in working with soapstone.
Cut wet with diamond bladed tile saws.
Buff out nicks and scratches with fine grit sandpaper.
Set with a refractory fireplace mortar like Heat-Stop™.
Joints can be 1/4" or even thinner.
Choose from our four different size bricks to achieve
many different patterns and layouts.
Use only for masonry fireplaces.
Choose your layout & brick size
We have four sizes of bricks:
Standard:    9" × 4½" × 2½"
Split:             9" × 4½" × 1¼"
Strip:             9" × 2 ½" × 1¼"
Soap:             9" x 2 ½" x 2 ½"
Decide what brick face you want to show and how thick you want the soapstone to be (2 ½", 4 ½", or 1 ¼").  For wood-burning fireplaces, we recommend a minimum soapstone thickness of 2½".  IsokernTM and gas fireplaces may be able to use 1¼" thickness: check with your fire inspector.
Calculate the square footage of your firebox walls & floor
Contact us for a calculator that will determine how many bricks you should order, including some extra for cutting waste.  We sell full cases of bricks only,
and minimum order quantities apply.
We ship nationwide.  For a shipping quote, let us know your town, state and zip code, and if its a residential or commercial address. We can offer lift-gate curbside unloading in many locations.
We accept checks, or credit cards via PayPal (some restrictions apply).
Want to Start a Soapstone Firebrick Project? Have Questions?
Please contact us!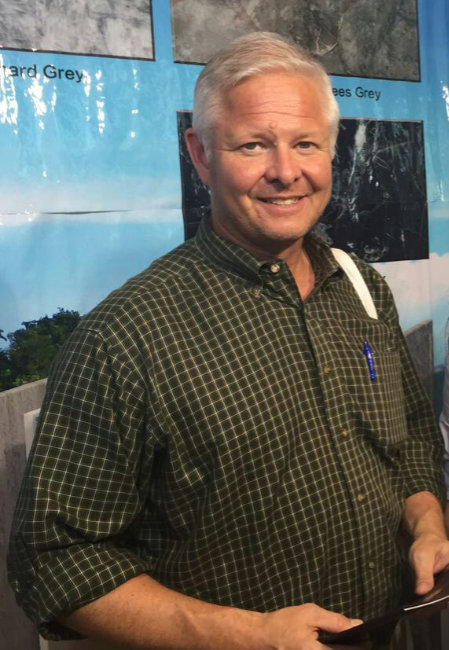 Robert Andrews, General Manager
Robert Andrews, General Manager